A Stylish Quinceañera Hall
At Avanti Banquet Hall, we love quinceañeras. This event marks a truly special time in a young lady's life, a celebration where she will make once-in-a-lifetime memories. Because we understand the importance of this milestone, our team works hard to make the quinceañeras that we host extra special. We offer everything you could want in a quince hall, and more!
Avanti provides everything you'll need in a quinceañera venue, including modern, custom-made décor, a state-of-the-art LED lighting system, a large white marble dance floor for quinceañera dances, a stage for bands or DJs, on-site valet parking, and incredible in-house catering. Our ballroom has room to comfortably fit 350 of the birthday girl's best friends and family for her big day.
A Quinceañera Venue To Bring Your Theme To Life
We know that a huge part of any quinceañera is the theme. From "Hollywood" to "Royalty" to "Day of the Dead" to "Western" to "Masquerade", the inspiration for themes is endless. No matter what the birthday girl chooses, our versatile quinceañera salon can accommodate the décor and elements needed to bring that theme to life.
We offer customizable amenities that will help bring the quinceañera theme together. From our LED lighting to our linens, décor, and centerpieces, we will work with you to help create the ideal atmosphere. And if there's something that we don't provide, we can provide you with a list of outstanding local vendors who can help get you whatever you need!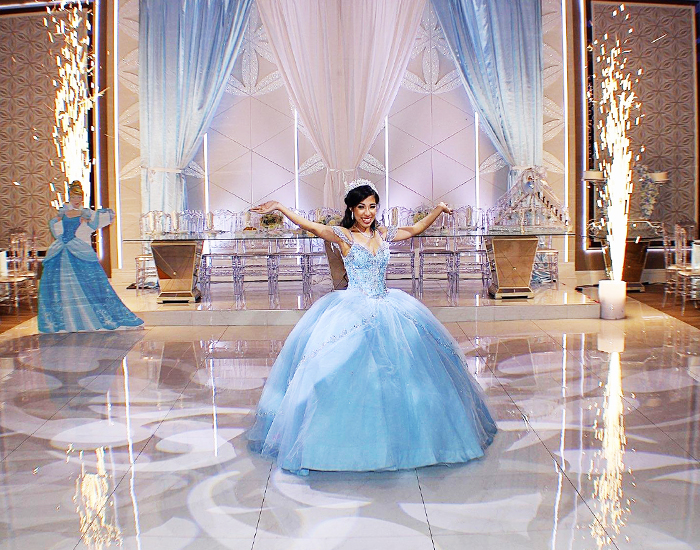 A Magical Quinceañera Hall In Los Angeles
Avanti Banquet Hall is the perfect setting for the perfect quinceañera celebration. Our space can be transformed to reflect the party theme and the birthday girl's personality. We bring energy, the best décor, incredible food, and outstanding service to every quinceañera we host. Simply put, our quinceañera hall in Los Angeles will make your daughter's eyes light up the moment she steps through the doors.
Explore Venue
See More Photos
Check Availability
Party Like A Star At One Of The Most Exciting Quinceañera Venues In Los Angeles!
One of the elements that makes Avanti Banquet Hall a fantastic quinceañera venue is that we offer many amenities that can easily be customized to suit the size, style, theme, or colors of your quinceañera. Our event planning team can customize nearly everything to match your tastes. From décor to the menu, we do it all!
And your guests won't need to worry about parking. Our quinceañera hall offers valet service, as well as many other amenities that will make your quinceañera one to remember forever. After all the months of planning and organizing, the time has come! At Avanti, we will give you the party you've been dreaming of.
Explore Venue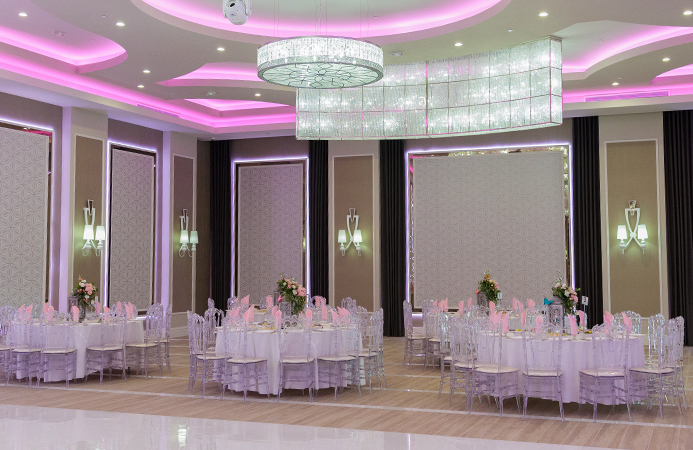 Superior Catering For A Memorable Quinceañera
When loved ones gather, it's an occasion that calls for outstanding food! A quinceañera demands the very best catering to satisfy everyone's tastes. At Avanti, we are more than just a quinceañera venue. We also offer some of the best catering in Los Angeles, and we will work with you to provide a menu that everyone will love. We can even create certain foods to match the theme or style of the party. All us to take your quinceañera to the next level with our carefully prepared, delicious dishes that are certain to impress your guests.
See More Dining Options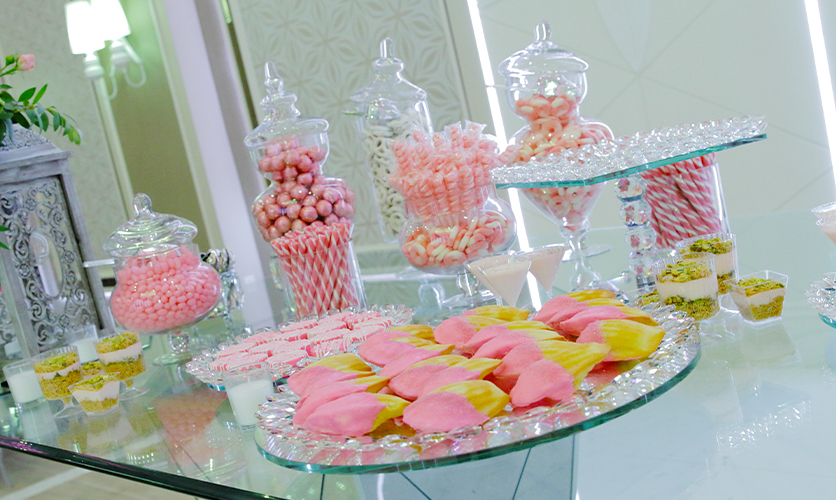 Why Choose Avanti Banquet Hall As Your Quinceañera Salon?
There are many quinceañera salons in Los Angeles to choose from, so it can be overwhelming to try to find the right one. Avanti Banquet Hall stands apart from the rest because of our mission to bring our clients the absolute best party possible.
With our hardworking staff, upscale atmosphere, numerous amenities, and world-class catering, we offer you everything you'll need for the perfect quinceañera, and more—so let our team at Avanti Banquet Hall to help you celebrate this momentous occasion!
An All-In-One Quinceañera Venue
If you're thinking about hosting both the religious ceremony of the quinceañera and the celebration in the same venue, Avanti can accommodate this. We have a beautiful stage for the ceremony portion of the event, which makes a perfect area to spotlight the traditions of a quinceañera celebration. Many people choose to hold the ceremony at the same venue as the celebration, as it is more convenient for guests (and the quinceañera dress!). Our quinceañera venue in Los Angeles is the ideal location to host the party of your daughter's dreams!