An Impressive & Modern Corporate Event Venue In Los Angeles
Corporate events demand a professional space. Avanti Banquet Hall's superior service, versatility, and client-first mentality help to create one of the best corporate event venues in the Los Angeles area.
Avanti can hold up to 350 guests, with impressive décor and a wealth of customizable amenities at your disposal, making it the perfect space for corporate conferences, holiday parties, awards banquets, and much more. Our corporate party venue in Los Angeles will take your event to the next level!
Explore Venue
Check Availability
Holiday Parties
Allow us to help your company celebrate the holidays in style! From Christmas parties to Halloween gatherings, we can do it all. With delectable catering options, stylish décor, and the very best accommodations, Avanti Banquet Hall in Los Angeles is an excellent corporate event venue, ideal for any company holiday bash.
Fundraising Galas
If your organization is looking for the perfect venue to raise awareness and funds for your cause, consider Avanti Banquet Hall. With our exquisite style and immaculate décor, our venue is guaranteed impress prospective donors. Our large venue also provides plenty of space to mingle and network with guests, opening new doors for the future of your organization.
Awards Banquets
Those who work hard deserve to be recognized for their accomplishments, and what better way to celebrate their work than with an impressive awards banquet at a beautiful corporate event venue? We have a stage for speeches and delectable in-house catering for fine dining. At Avanti, we will work you to bring your company and its hardworking members the recognition they deserve.
Tour Our Exceptional Corporate Party Venue!
Avanti Banquet Hall's superior accommodations, amenities, catering, and service truly make it an outstanding corporate event venue in Los Angeles. For more information on our corporate party venue services, or for an in-person tour, simply contact us.
Explore Venue
Check Availability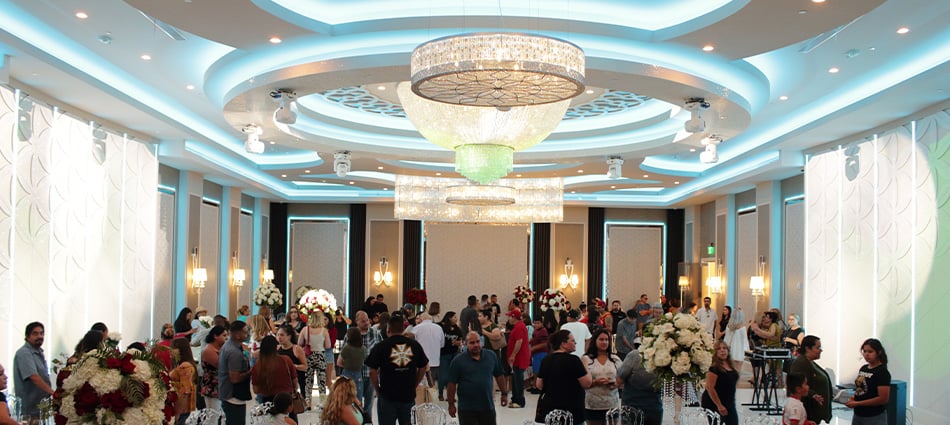 Retirement Parties
Loyal employees deserve the proper recognition and send-off when they decide to retire, and a retirement party at Avanti will definitely provide this. Our corporate party venue in Los Angeles can accommodate everything that is expected at a retirement party, as well as customizable amenities to make the celebration truly memorable.
Conferences & Product Launches
If you're holding a corporate conference, presentation, or launch event, you'll need an impressive corporate event venue in Los Angeles with a sophisticated, professional atmosphere. Avanti's exquisite layout and polished event staff will command respect from employees and clients alike. Our venue can be completely customized to your company's desires.